Basic Skirt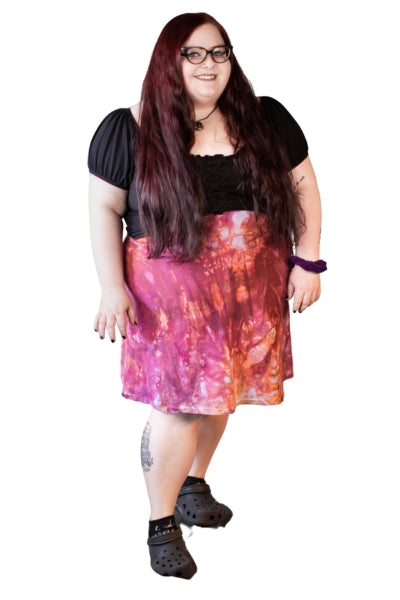 Organic Basic A Line Skirt
Spincycle x Texture did it again! Kate did her ice-dye magic to a batch of Basic Skirts in popular spinster colorways! This hand-dyed batch feels like a dream to wear, but with the gorgeous colors, it's anything but basic.
This organic basic a-line skirt is almost exactly the same pattern pieces as the Comfy Skirt you know and love, but it doesn't have a hidden pocket at the center front.  This style is also available as a Fitted Skirt as well.
We still have a handful of Raglan Tees left from our last collab. Check them out!
Ice-Dyed Fabric: 52% hemp / 45% organic cotton / 3% lycra 
All Other Colors: 95% organic cotton / 5% lycra (a bit lighter weight)
4" waistband, stabilized with elastic 

Actual medium measurements:

waist :: 29"(XS) 30"(S) 32"(M) 36"(L) 38"(XL) 40"(XXL) 42"(3XL)  

hip ::  42"(M) 

length :: 22.5"(All Sizes) 
Questions about sizing? Ask us!
Questions about laundering? Read our blog post!
Questions about shipping & returns? Click here.
I LOVE my new skirt.
I'm watching the site to see when more are available!
Thanks for leaving this review, Lindsay! Do you know about the Wish List? You can find the link on the bottom navigation of this website. If/when we make your desired item again, we'll send you an email!
Growing Collection
This is my fourth time purchasing the Basic Skirt. I love this skirt! It's a simple design that drapes beautifully. The soft fabric is the perfect warm weather weight, but can be worn in cooler temperatures by wearing leggings underneath. If a new pattern or color comes out, I will probably own a fifth.
Best Black Skirt Ever
I just received the Jet Black Basic Skirt - the fit was perfect, the color the deepest darkest jet black (so rich and gorgeous), the length not too short, not too long, and the feel of the fabric, pure comfort. My only regret is that I didn't get it sooner so I have more time to wear it this summer. It will be something to look forward to next summer!! Thank you!
super skirts
i have several of these awesome skirts and wear them year round - they are a lighter weight so perfect for warmer weather but great all winter w/leggings!!! love them!!!
Love This Skirt
I have several Comfy skirts but I wanted something that was lighter. I love this skirt. It's form-fitting flattering, and comfortable.
great skirt
Overall—I like that pocket on the Comfy Skirt and the hemp fabric more. But, I got the Meadow Stripe and Sunset Stripe for some variation! It fits identically to my Comfy Skirts and the vibrant fabric is really wonderful.
Perfect Skirt ~ Perfect Fit
So flattering..I bought five more! Texture clothing is so well made! The skirts are high quality, with detailed craftsmanship: they will last for years and years
(my first three skirts are five years old- still beautiful ).
The style and fit of these skirts are classic: so never out of style….
Such a refreshing solution to the throw-away fashion that are in all the stores. Look no further for high quality, highly flattering, timeless skirts.
My sister and I -between us— have more than twelve Texture Clothing basic skirts.
They are "The Perfect Skirt"
I love the "comfy skirt" and especially the "basic skirt": I keep four-five for formal outings and then have eight for work and/or casual use.
Thank you Texture Clothing for your attention to quality and detail.
love this skirt!
fits nice, looks nice, so comfy, want more colors!
Flair and comfort for summer!
Texture has been a mainstay several years for me with their quality clothing. The basic skirt is no exception to this! I own two basic skirts that I wear in summer with either a t-shirt or light button down tied at the waist to accentuate the waistband for a beautiful flow to my curvy shape. I love the length since I can walk in windier weather without it coming up or pull it up slightly for bike commuting. It's light, flows well, and brings a spring in my step and heart!
Basic skirt is my favorite skirt!
I wear knee-length cotton skirts with t-shirts throughout the warmer months here in the Pacific Northwest, and this one is my absolute favorite. It has soft breathable fabric and a flattering drape, a waistline that stays smooth and doesn't bunch up, and is my favorite color. It also layers beautifully under my new dreamy dress, so I can extend the season a bit. All of my Texture clothing has been excellent quality and lasted for many years with a little care. I usually wash in a mesh bag and hang to dry. It's well worth a little extra effort to keep wearing my favorite garments for years to come.