Joggers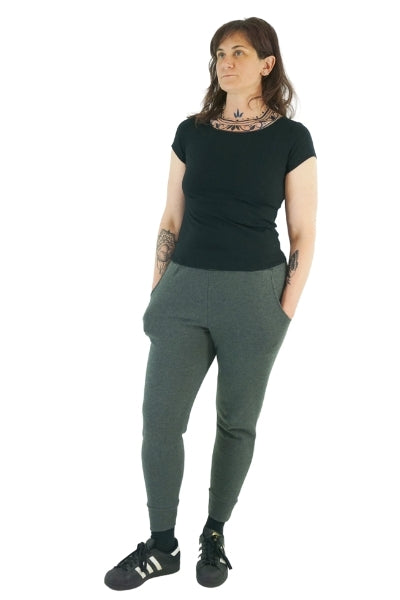 Organic Cotton Joggers
One of our wonderful customers requested that we make organic cotton joggers. We were able to source some wonderfully soft 100% organic cotton fleece that is SO cozy! Made in the Pacific Northwest, these cozy joggers are a wardrobe staple. For a matching jogger set, take a look at the Pocket Jacket, constructed with the same fabric!
100% organic cotton

2 encased rows of wide elastic at the waist
Side pockets
Actual medium measurements:
waist :: 30" (can stretch a couple of inches)
hip :: 40"
inseam :: 26.5"
Questions about sizing? Ask us!
Questions about laundering? Read our blog post! 
Questions about shipping & returns? Click here.
Quality and details!
These joggers are perfection. The ankle detail, waistband and high quality material all set these apart from your basic joggers, though come as no surprise if you know Texture! 10/10
Best joggers ever!
I LOVE my Texture joggers! They are so soft and comfy, but still have enough structure and body to look put-together. I wore them several days in a row before forcing myself to launder them. I also appreciate that they have a relatively high rise, so they fit over my hips and on my waist *perfectly*.
Impeccable Quality
Delighted by the high quality, beautifully made pants and LOVE that they are Organic cotton. My daughter loves her tights. And you cannot ask for better service and personal commitment to keeping their customers happy.
Casual Friday
I picked these up in a heat wave and it has finally cooled down so I can properly enjoy them. I like joggers so I definitely had to try these.
Things I love: the length, I am about 5'11" and these are a good length for me hitting low enough below my calf to not feel constricting; the waistband, double elastic so feels nice and snug and comes up to my waist so they don't give me a 🧁; pockets, nuff said; fabric, soft and stretchy and super cozy, and look nice enough to wear to work (I got black).
I ordered my same size as for the comfy skirts and feel good about that decision.
Very comfortable!
As soon as I tried these joggers on, I knew they were going home with me! They are extremely comfortable in the waist! I am impressed that they stay up perfectly, even though they don't have a tie! I am a larger human and can confidently squat and move in these, which will be perfect for fall and spring gardening! They will be favorites for many years to come!!
Amazing Pants!
These are the pants I've been waiting for! Higher waistline, comfort in all areas, pockets, no tie, and flattering! I needed a new pant, and I wanted to try these on before purchasing. The way the waist sits, the soft band and double elastic…these are the details I love as a customer and as a sewer. Even my scarring from birth, gallbladder surgery, and diastis recti we're no problem at all. They're like a hug. Pair them with the jacket and you'll be ready for Fall! We walked away with two pairs for me and two pairs for my husband, who has needed thicker joggers for winter. These stay up on both of us without a tie, and I love them! Here's to a comfortable 2021.