Zero Waste Tote Bag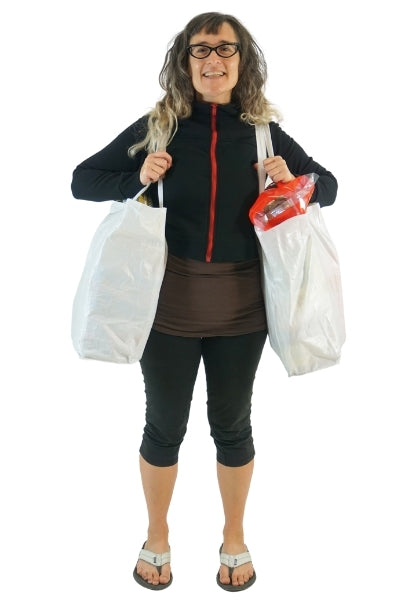 Zero Waste Tote Bag.
Our fabric is shipped to us in protective woven plastic bags. We have been saving these bags, unsure of what we'd do with them. We decided to make simple tote bags from this durable material. We also make some larger totes, Carry Alls and Zippered Carry Alls.
These 'no frills' zero waste tote bags are sturdy and can hold a heavy grocery haul. They are waterproof, so if you have art supplies or wet clothes from swimming, it's a good tote to have on hand! When you buy these from us, you are helping us divert this material from going to the landfill. Thank you for doing your part to support our business and reuse these bags so that we don't add to our landfills. We appreciate you!
Height 18.5"
Width 16.5"
Depth 6"
Straps are 24" long
White woven plastic :: 100% plastic 
Have any questions? Ask us!  
Questions about shipping & returns? Click here.
Simple and roomy.
Perfect to keep in the car for last minute grocery runs when hubby forgets to take bags. Big enough to carry several projects for sewing days with friends - could easily hold an adult size fabric project. And I love that it's all part of reducing waste.