Mobius Scarf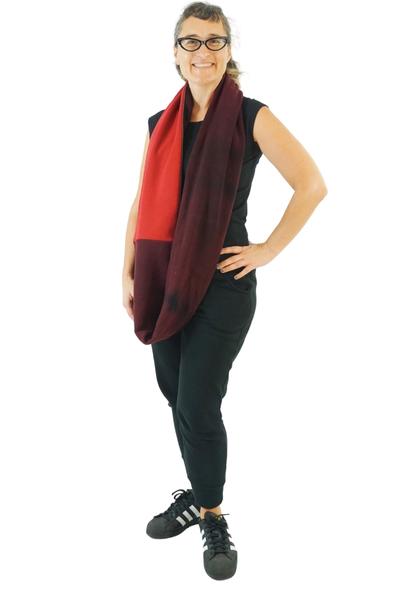 Eco Friendly Mobius Infinity Scarf
The Mobius Scarf is a staple in cold weather fashion. The ends are sewn together so you never again have to worry as your scarf streams steadily further behind you when biking downhill. Wear this infinity style hands free super scarf hung long to provide some warmth, or looped up as a cowl to protect you from blustery winds. Our Mobius Scarves are assembled into a complete circle and are all made from sustainable fabrics, just like the rest of our collection.
Red Wool :: 100% organic wool (70" x 12")
Quilted & Natural :: Organic cotton and silk. Dyed with natural dyes.
Questions about sizing? Ask us!
Questions about laundering? Read our blog post!

Swaddled
Can you have too many scarves? I don't really think so. I got one of the natural/quilted scarves and it is so sweet. It is soft enough to be a baby blanket. It is a little bulky to double up on, so it will be worn mostly like a shawl. I love these unique pieces and knowing that nobody will have one just like mine.
Mobius Infinity Scarf
I have worn this scarf every day since I received it in the mail, which was over 2 weeks ago, except for the day it was too hot! That's how much I love it. It is comforting to me at a very difficult time in my life. Thank you!!