Pin Tuck Tank Sewing Pattern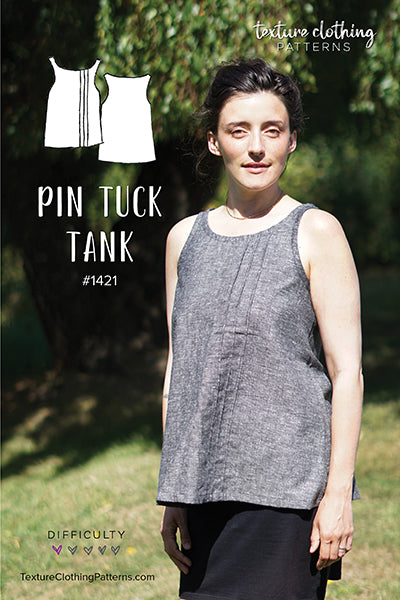 DIY Tank Top Sewing Pattern
Do you have 2 yards of fabric and feel like getting crafty? This project might just fulfill your craving! 
This DIY tank top is so classy and flattering. Because you will be making it yourself, you can choose your desired hem length. You can make your own Pin Tuck Tank using something from your own woven (not a jersey) fabric stash, purchase a piece of hemp fabric from the same vendor that we buy from, or have one of our patterns printed onto organic cotton! This style is great for both small and plus sized frames as it offers sizes XS - XXL. This pattern is a great pattern for a beginner. The bias tape and the pin tucks are the tricky parts but they create a sophisticated look with an otherwise simple garment. (If you want to buy one that's already sewn up, you can find the Pin Tuck Tank here.)
After you purchase the pattern, you will be emailed a link containing the sewing directions, and 3 ways to print. You can decide if you want to send the pattern to be plotted out at a printer or if you want to print it on legal or letter sized paper at home and tape it together.
This sewing pattern is for personal non-commercial use only. No part of this sewing pattern is to be reproduced for a profit or shared. No garments made from using pieces of this sewing pattern are to be sold for a profit.
Follow Texture Clothing Patterns on Instagram!
Questions? Ask us! 
Love a pattern you can complete in a day!
I like the width and length of this tank top. Often tank tops are tight, form fitting or too short. This is a comfy, breezy pattern. The simplicity of it makes it perfect for a variety of fabrics. This is a pattern you can make more fancy with a nice linen or woven fabric or fun and casual with some crazy print. This pattern is a perfect reason to look through your fabric stash. I'm already planning my second one.
Great beginner pattern with sophisticated elements
This is a really fun and quick project! Teresa has designed something flattering for all frames, and the pintucks elevate it from simple to classy. If you're a beginner sewer like me, you'll appreciate learning how to sew bias tape and pintucks. This is the perfect wardrobe staple for warm weather! I love this in my linen fabric and it will lend itself well to other fabrics too.