Ballerina Bralette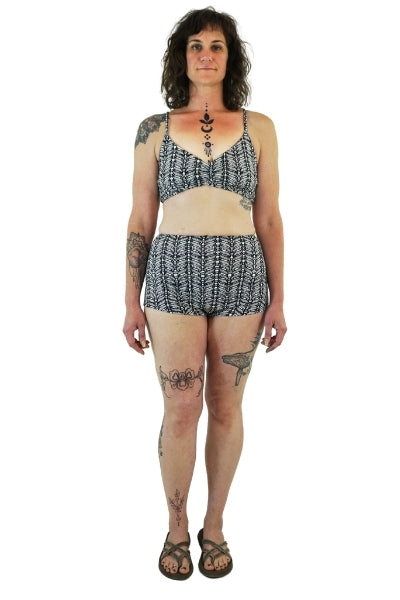 Organic Cotton & Hemp Eco Friendly Bra
Inspired by our massively popular Comfy Cami Tank, we present the Ballerina Bralette. This organic cotton and hemp bra is sewn with straps that cross in the back and are stabilized with elastic, so it's just what you need to stop the never ending fight against falling straps. Elastic is also sewn into the bottom seam to provide continual support. Constructed with an eco friendly fabric, the strikingly comfortable Ballerina Bralette is great for everyday wear and it also works as a bathing suit!
The inner bodice layer contains two slits that allow placement of additional padding between the layers, making it great in the cooler months and for wearing as a swimsuit!
Black, Espresso, Grape, Lime, Mottled Lime, Peacock, Pewter, Skyfall, Smoke, Teal :: 55% hemp / 42% organic cotton / 3% lycra
Jet Black, Galaxy, Heather Smoke, Knit Print, Meadow Stripe, Milky Way, Twilight Stripe :: 95% organic cotton / 5% lycra
Ruched center front

Double layered bodice

Slits on inside, side seams to insert bra pads

Criss-cross back straps

Actual medium measurements:
bodice :: 30" 
length :: 11.5"  
Questions about sizing? Ask us!
Questions about laundering? Read our blog post!
Questions about shipping & returns? Click here.
The best bralettes!
I've been wearing these for years and they are my favorite! Comfortable, durable, and they fit perfect. I'm true to size in these.
This bralette was so comfortable to try on that I started getting dressed with it on before purchasing. Ooops! Now that it's truly mine, I wear it all the time. So soft with the right amount of support for this gal who dislikes, padding, wire and lace. Just like the undies, I do not want to think about my bra when wearing, and that's true with this bralette. Nice work Teresa!
Perfect
My favorite everyday bra! It's comfortable and easy and even cute. I like the thicker fabric. I'm a 36AA and can wear both small and medium.
Love my bra!
It's gorgeous, comfortable, and fits just right. Thank you, Texture!
Comfy!
This is comfy but probably best for very small breasts. The L was a bit snug and the ladies blooped over the top a bit. I tried the XL which is much more comfortable, but now the ladies sneak out the bottom by the end of the day. I'm considering adding an extra layer of elastic along the lower edge to see if that helps keep it in place. I still wear the XL because I'm pretty committed to never going back to a BRA-bra and if my ladies wanna do their own thing, who am I to judge.
Comfy and stylish!
A friend introduced me to the ballerina bralette. She gave me one for my birthday. I liked them so much I bought four more! They're comfortable and stylish.
Mom boobs
I love the fabric/color/design, super comfy! My only problem with this bralette, which I seem to have with all bralettes, is my boobs fall/sneak out the bottom when I move around :-( After multiple pregnancies and breast feeding for over 5 years, I have amazing, powerful, lovely, perfect, sort deflated water balloons for breasts. I'm thinking I just need to give up on the bralettes - but darn it because they are so comfy!
Thanks so much for leaving an honest review, Jaime. I appreciate it. Have you considered going down a size, so that the bralette is tighter at the bottom? (Perhaps it'd be too tight or not enough coverage, allover...but I was just wondering.) -Teresa.
great fit, very soft and comfortable
I recently purchased a bralette in jet black, third one to date, and I couldn't be more pleased. I wear a small in the 95% organic cotton, and can comfortably wear it with or without padding. The organic cotton/hemp blend size small fits more like a sports bra. Comfortable, but compressed and no room for padding. Next time I will get a medium. I would recommend this bralette in either fabric.
Comfy
This bralette is comfortable and well-made. I ended up putting in some pads and they fit great. It took me a minute to get used to the fact that it does not have a band or support underneath; it kind of just sits on top. But it stays and is super comfy so I decided to keep it. I am a 36c and the medium fits well. It is relaxed and not tight, which I like.