Ophelia Undies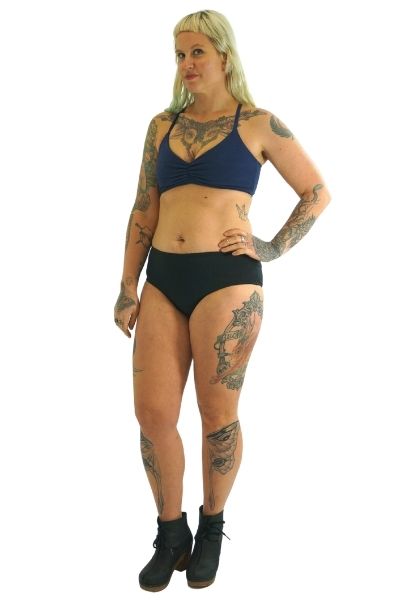 Hemp and Organic Cotton Underwear
Do I want to give you personal information about my underwear drawer? Not really. But I will because you asked so nicely.

I spent years of my life being uncomfortable in my underwear. So much so, I would go commando when possible, even though I wore skirts 90% of the time- yikes! I finally got serious and set out to find the best, most comfortable pair. I spent a lot of time, a lot of money, and bought a lot of underwear. None of them made me happy. I know, I know- happiness can only be found within- but it's so much easier to be happy while wearing comfortable skivvies, isn't it?
It was then I decided to create my own undies: Ophelia Undies. Being pear shaped with some extra cuddliness in my hip and stomach area, I didn't want them to be too tight and show through what I was wearing. I designed a cut that's not too tight at the waist and leg openings and sits low and comfy on your hips. I made the first few pairs using soft sustainable fabric scraps set aside while creating another collection. Then I realized I'd hit on another way to upcycle materials that would have otherwise gone to the landfill AND save my customers from the same endless undie quest I'd just concluded.
Ophelia Undies will last a long, long time because of our quality sewing and fabric - not the usual, pesticide-coated, short-staple cotton that wears thin and falls apart soon after purchasing. I've literally had the same pair of Ophelia Undies for five years!
*Please note that there are no returns or exchanges for undies

Clifford Red, Heather Charcoal, Jet Black, Milky Way :: 95% organic cotton / 5% lycra

All other colors :: 52% hemp / 45% organic cotton / 3% lycra
Elastic in hip and leg openings

Waist band

measurements

:  
XL- 34"


Questions about sizing? Ask us!
Questions about laundering? Read our blog post! 

Questions about shipping & returns? Click here.
They Breathe!
Not only are these Ophelia Undies a great investment (some of mine have lasted 7 years!) as well as being good for the economy and the landscape, they feel great on my body! They are, as far as I am concerned, hypo-allergenic and they breathe. AND YES for supporting our local artisans!!
Great style, durability and colors!
Always on the lookout for well-designed, well-made and durable underwear - these check all the boxes! Love the colors and they are very flattering, stay in place.
Still the Best Little Panty Ever
I've been wearing these undies for too many years to count. I just recently bought a few more pairs and they fit exactly the same and are as soft and comfortable. They stay put and don't ever call my attention while wearing. For me the perfect panty!! Please don't change a thing.
Nothing better than Ophelias!
Ophelia's are the most comfy, high quality, well-constructed, and perfect fit of an undie in existence! The material is soft, beautiful, supportive, long-lasting, feels good on your skin, and works with anything you plan to wear. And how can you even beat the fun color and pattern options, along with supporting a sustainable (hemp/organic), women-owned business right here in the US? I've swapped out half of my undies with these and plan to do a 100% Ophelia undie drawer takeover in the coming months. I'm absolutely done buying cheaper, commercially produced undies that are low quality and eventually fall apart. Thank you Teresa!
love my new undies
I love my new undies! They are sleek yet comfy, and I love the colors. Also I feel great knowing I'm going the extra mile to take care of myself.
durable and comfy
I first bought some of your undies 4 years ago. They have held up really well, but it was time to buy new ones. People might hesitate to pay this price for undies but I see them as an investment: you're helping the environment by not throwing out cheap and flimsy synthetic undies that are more widely available, you're buying made in the USA clothing and they are very comfy to boot. Highly recommended.
Quality!
Love these undies! Fits true to size. Quality fabric and durable construction AND amazing customer service! Thank you!
Comfy undies!
I took advantage of the hump day sale and am so glad I did! Got a grape colored pair and not only are they pretty, they are my comfiest undies! Sit just right and the material is just stretchy enough while still staying in place pretty well. Might have to get more...
Not right for me
I ordered these fun undies in XL, and am bummed (hah!) that the fit doesn't work for me. In the back, they ride up from the bottom, and dip from the top, and they look poochy in the front. I'd be okay with being a little unsexy if the fit were spot on, but alas no. I'm something like 5'3" and 145 lbs, with a generous butt and and hips. So wish these worked for me--the fabric is nice and the current colors are fun. Maybe they'll be great for you!
Comfy cute cotton
I've ordered Texture skirts for years and just tried the Ophelia undies, which is made from a lighter fabric than the 4-way stretch hemp that I love. Just got one pair in the "milky way" pattern. So far, so good! Nice stretch, stays put, doesn't dig in.
Hi Robin!
Most of our Ophelia Undies actually are made from the same fabric as our Comfy Skirts, but a few are made from that lighter weight fabric you mentioned. If you want to give the hemp blend undies a try, you can refer to the fabric contents listed on the product page, or contact us if you have any questions!