Simple Cowl :: Tank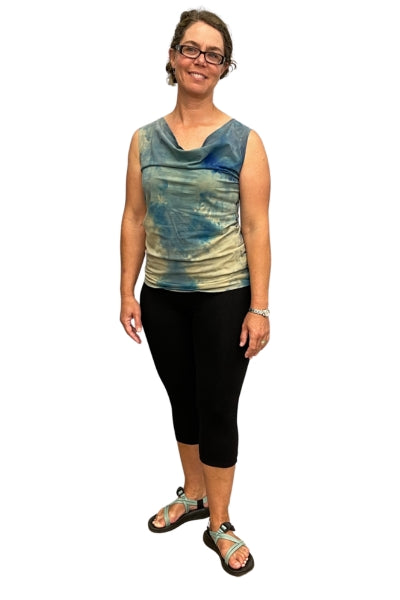 Eco Friendly Cowl Tank Top
The effortless glamour of a draping cowl neckline makes this sleeveless tank easy to dress up or down. Rock this elegant style with a bra or bandeaux and never worry that your straps will show. With our signature long length, this flattering top makes a great compliment to a long sweater and leggings, or a mini skirt in the summer. We've been told the easy stretch and extra length also make it ideal for that growing baby bump!
Also available with half sleeves, or short sleeves!
avocado stripe, berry stripe :: 60% rayon/ 35% organic cotton/5% spandex - See more at: http://www.textureclothing.com/collections/tops/products/simple-cowl-half-sleeve#sthash.ftD73YTa.dpuf
95% organic cotton / 5% lycra 
Note: All ice dyed tops have unique coloring. No two are alike.
Cowl neck
Sleeveless
Fitted through waist
Actual medium measurements:
chest :: 36"  
waist :: 32" 
length :: 28.5" 
Questions about sizing? Ask us!
Questions about laundering? Read our blog post! 

Questions about shipping & returns? Click here.
Gorgeous colors
I absolutely LOVE the design of these shirts so of course I had to buy 2 of the ice- dye blue. They are both unique and the design is gorgeous. One of them has more vibrant blues and the other is more lighter, subdued color of tan and a smoky blue. I look forward to wearing them and getting all of the inevitable compliments!
Fits wonderful, looks fantastic
I love the simple cowl tank. You can dress this up and wear it as part of a casual look. The cowl is the right size, not too big, but enough to make the look just perfect. I got the icy blue dye version and the coloring is fantastic. I love the unique pattern of it. Goes great with a comfy skirt!
Love this tank
I've ordered four over the years. So comfy and soft, and my go to when I want to be bra-free. I love the comfort and durability of all my Texture clothes!
My favorite shirt!
This is my favorite work shirt—I'm overjoyed Teresa made a new batch! I have three from a previous run and got the new indigo & black. I have half sleeve and cap sleeve but this one is the best for my Tucson climate.
Nice cool tank top
I bought this top to go with the capris I bought earlier in the early. Both in the Clifford Red color!
I am still trying to sort what size I take in the various styles (i.e. in leggings, capris, dresses, tops). Fortunately, there have been great sales where I have been able to try out a new top or dress to see how it goes. I love the e material this tank top is made of as well as the style. Extremely comfortable.
I highly recommend any product that Texture Clothing sells. It is beautiful, comfortable, sustainable and fun to wear.
Where has this shirt been all my life?
Comfortable, versatile top
This top has a flattering fit, with the cowl neck adding a bit of flair. The fabric is very soft and comfortable. I ordered size XS, which is my usual size for Texture clothing, and it fit perfectly.
This was my first purchase from texture clothing and I'm very satisfied with the product.
The cowl neck design gives elegance to the simple/everyday tank look. I wasn't sure about my size (I usually wear 6-8), so I got one each from S and M in different colors. I'm fully pregnant right now (like past due date), but they both fit me well. Isn't it amazing? The material is that soft and comfortably stretchy. However, I personally prefer size S, for the cowl neck to shoulder part fits tighter/better.
Lovely top, versatile and great craftsmanship
I usually wear a M and took a gamble ordering a small in this top as that was the only size left in the color I wanted. Perfect fit! I'm a M usually, so I would say this runs large for a small, in my experience.
That one star
I had to laugh at the one star subtraction comment from another reviewer. Yes, you have to take the potential boob flashing into account before you wear this, but that is one of the very reasons my husband told me to order more of these! It's like stealth sexy...
But as everyone else said, you can't beat the comfort and amazingly it is really flattering AND the shoulders straps don't slip down since they are so wide. I have big shoulder and back muscles and that's always a challenge for me. Will be adding more to my closet- in all sleeve lengths and colors.