Boat Neck Tee :: Short Sleeve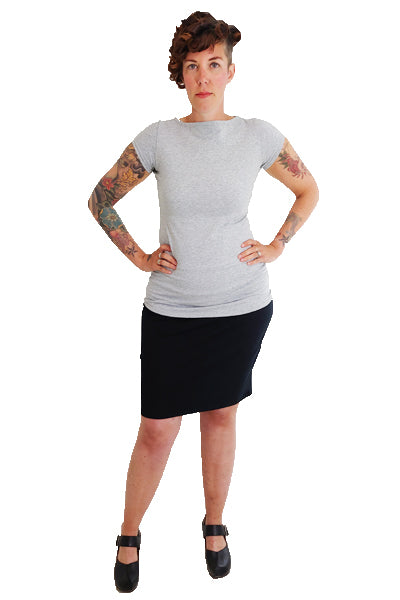 Eco Friendly Short Sleeve Boat Neck
A great everyday tee with a dash of Audrey Hepburn. This eco friendly short sleeve boat necked tee is unique enough to spice up the classic "jeans and a t-shirt" look, but simple enough to pair with some fun accessories! The durable organic t-shirt will bend over backwards as many times as you do and bounce back into the same flattering fit. Whether you're making an impression at the office, impressing someone with your yoga flow, or doing your weekend impression of a sloth, this tee is incredibly comfortable and effortlessly elegant. This style is also available with half sleeves.
Please note that there are no returns or exchanges on sale items.
95% organic cotton / 5% lycra  
Boat neck
Cap sleeves
Fitted through the waist
Actual medium measurements:
chest :: 36"
shoulder :: 30"
length :: 27.5"
Questions about sizing? Ask us!
Questions about laundering? Read our blog post!
Questions about shipping & returns? Click here.
Loved every piece
It's rare I like every piece when I order online but this time I did! Super cute and comfy. I also love the length of the tops which is just that bit longer and gives a beautiful long line to my torso.
Excellent staple tees
These shirts are such great quality and fit. Glad to catch them on sale.
Love
Love this shirt. Comfortable, versatile and flattering! 🖤
Almost Perfect
The Boat Neck Tee is well constructed and has a flattering neck line and feminine fit. I purchased it in fuchsia, which is a flattering color for me. My only criticism is the length. I have a short torso, so when I wear the tee, it looks more like a micro mini dress. Works great tucked, but there is too much fabric when left untucked. With that said, I would still reccomend this tee.
Thanks for writing an honest review Schorre! Now other people can decide if our tees are right for them. I know that this is an added expense, but have you thought about taking the shirt to your favorite alterationist to have it shortened? When I buy clothing from other designers I sometimes have to tweak it a bit so that I love it.
Perfect shirt for work or play
I love this shirt. It is well made, comfortable, and flattering.
Comfortable top
This t shirt is similar to the simple tunic. It fits the same except the material on this top is lighter and softer. I bought one to try out and really love it! I'm going to get more before they run out of my size! I wished they had this same material and neck style in a sleeveless though **hint hint**
Great Fit
Fits snug (I wore a size XXL ) and didn't feel like it was too snug or bunching. I felt stylish, but relaxed when I went to brunch.
Professional & comfy!
I don't want to take this shirt off! It's flattering and comfortable and classes up my wardrobe in a major way. I still feel like I'm wearing a t-shirt, but I look like I've got style and good taste. A major step up for me — so glad I can count on clothes that are so well made, and for real women with curves!
Best Texture tee ever
This is a well-cut tee, with a flattering neckline, which covers one's bra straps. It is a good length. I am pleased with the fit. I have ordered several in heather charcoal, jet black and Clifford Stripe. Thank you, Teresa.
Thank YOU for continuing to buy the clothing we make! You are very much appreciated :)
Perfect top!
I love the boat neck tee. Super soft and comfy with just the right amount of stretch. Flattering fit.