Market Skirt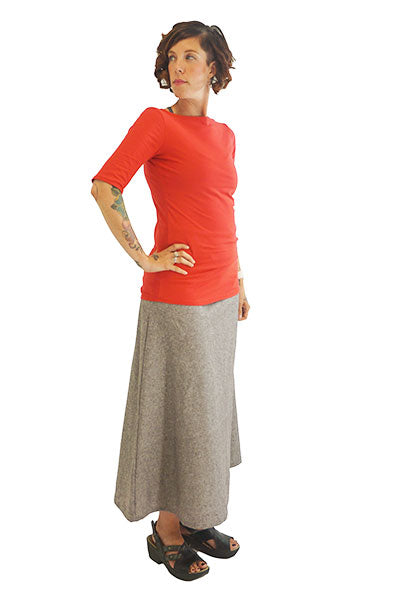 Eco Friendly Long Skirt with Passport Pocket
You asked us to bring back this eco friendly long skirt with a center front passport pocket...so we did it! A Texture Clothing original, the Market Skirt is even longer than our Long Comfy Skirts. Its invisible pocket is an understated lifesaver- free up your hands as you go about your day or get a little crazy and leave the whole purse at home! In addition to daily things like wallet and keys, the zippered pocket fits a passport and would love to accompany you on your adventures. This skirt is made from an eco-friendly fabric blend, so you can feel good about wearing something that (as a happy coincidence) looks great on you!

If you want to make this skirt for yourself (or have someone else make it) we are now selling the sewing pattern!
Cinnamon Latte :: 55% organic linen / 45% organic cotton
Confetti, Char, Striped Char :: 55% hemp / 45% organic cotton
Salt & Pepper :: 55% hemp / 45% organic cotton
Pocket at center front with invisible zipper


Ankle length hem

A-line cut


Actual measurements:

waist :: XS-29" S-31" M-33" L-35" XL-37" XXL-38"

hip :: M-

42"

length :: M-

38"
Questions about sizing? Ask us!
Questions about laundering? Read our blog post! 

Questions about shipping & returns? Click here.
Market Skirt
This is a fabulous practical and pretty A-line style you can wear over and over again through the years. This skirt can go so many ways - professional, dressy with the right top, or casual. I LOVE the koala pocket, and keep stuff in there (credit cards, business cards, little lipstick, etc. GREAT hemp/cotton fabric. The fabric has a beautiful structure; it is strong and quality woven, but pretty. This is my second skirt. Thanks Teresa for your go-to pieces! AND it's fun to buy from Teresa - her intentions are loving and make you feel beautiful.
almost perfect!
I have a market skirt from several years ago, that I still love and wear, so I was happy to see if being offered again. The skirt is a great cut and length for me (it's so hard to find a good A-line.) I was also happy to see it come in gray. My only surprise is that the material is much thinner than it used to be.
Gorgeous skirt to wear anywear
This is a really lovely skirt that works for casual or more dressy occasions. It's beautifully made, and washes well. The pocket is brilliant!
Most importantly, the fabric is gorgeous. This is a skirt I see wearing for a long time!
Favorite Skirt
This was my second market skirt to purchase and I will continue to build my collection! I live in Europe and would never consider myself stylish by any means - comfortable and practical, YES! Whenever I wear this skirt, I always get compliments. They fit perfectly and are extremely functional. I can chase my toddler in them and attend my older daughters piano recital. Thank you Texture Clothing for continuing to make fabulous clothes that fit.
Classic and Comfy
Hey, Folks... this is the third texture clothing Market Skirt I've bought. The other two I've worn for nearly ten years, and they're still holding up beautifully...better than I am, as a matter of fact!
What do I love about these well made skirts? The soft swing as I walk, with the freedom to take long strides; the flattering design; the feel of good material, of real cloth, of honest texture... And, you know what? I love that craftswomen of their caliber are creating and working to offer us, women of all ages, the fruits of their labors.
Kudos, Ladies!
Thanks so much for your kind words, Anne! We love making clothes for awesome ladies like you!
YAY!! It's back!!
I was dismayed when the Market skirt went on hiatus--I discovered my first one in Portland more than a dozen years ago. It's such a good 3-season garment and another soon joined it in regular rotation. You suspended it just as I was finally needing another--no disrespect, comfy skirts. But I'm glad she's back and this denim-looking fabric is perfect! Now let's have a deep red/burgundy?
Great travel partner!
I bought this to wear on a trip to Morocco and Spain last summer. It was super comfortable and kept me cool on the hot days. The front pocket was so handy for holding my valuables so I didn't have to worry about the notorious pick-pockets of Barcelona. I will be buying more comfy skirts—the pocket and great cut makes these skirts a winner! I also suggest to size down when you order!
Great fit. Love it!
I think I wore it every day for a week! I love it and have gotten lots of complements. It's in the wash at the moment otherwise I would take a pick. I bought a small and I really am a medium. Hmm hope it doesn't shrink. I'll see. The front pocket is good for cash and a credit card /ID. I may add a side pocket to it . Hint hint.
Beautiful fabric and tailoring
I have many Texture items, and the market skirt is a great new piece for me. I LOVE the beautiful cotton/linen fabric, talk about a great texture and feel in the hand. It does not wrinkle when I wear it. I LOVE having a Texture alternative to jersey (stretchy) fabric. I have been wearing this to "nice" occasions because it is classy. I HOPE THEY MAKE OTHER COLORS! I have a few comfy skirts, and I would buy another one or two of the market skirt in different fabrics.
Thanks for the glowing review Jillian! We would like to make this in more colors...and we are wondering what colors you would want to buy. Let us know!
My favorite re-enlivened
I love the market skirt (I have 3 from before they stopped making them & 2 long comfy skirts). The market skirts have such a lovely drap and I love the hidden kangaroo pocket! This redesigned skirt now has the zipper in the back as apposed to the side which I appreciate because I did have one previous skirt zipper seam come undone (which I repaired myself because I love these skirts). I am so happy with the neutral color and material. I hope everyone buys one and keeps this classic available.