Gusset Leggings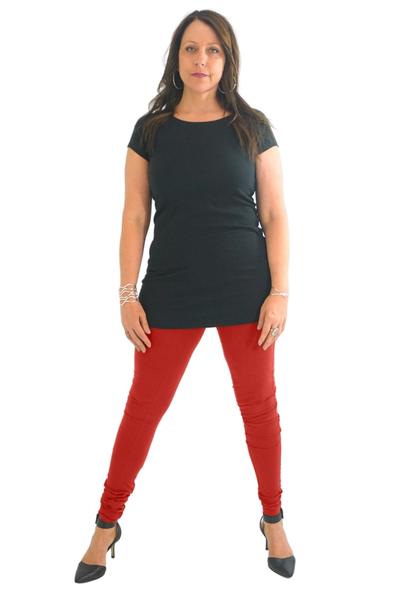 Organic Cotton Leggings
These organic cotton (and hemp) leggings are patterned with extremely long legs, the excess fabric ruches around your calves creating style and comfort, closing the gap that would normally leave your ankles cold. With a 3.5" waistband, these leggings stay put and are great for movement. You can wear and wash them day in and day out. Trust us, you'll want to!
Black, Espresso, Fern, Goldenrod, Grape, Pewter, Ruby Red, and Teal: 52% hemp / 45% organic cotton /3% lycra
Galaxy, Heather Smoke, Jet Black, and Milky Way: 95% organic cotton / 5% spandex
3.5" waistband stabilized with elastic
Extra long legs to create a ruched look around the calves
Actual medium measurements:
waist :: 31"  
hip :: 36"  
length :: 47" 
Questions about sizing? Ask us!
Questions about laundering? Read our blog post! 

Questions about shipping & returns? Click here.
The best leggings
These are my very favorite leggings. Both the cotton and the hemp feel so comfortable on the skin. The cut is flattering. The flexibility is great for all activities, including yoga. I love the long legs to keep my ankles warm. I usually wear size 10-12 in bottoms and the medium fit great for me. These leggings are the best!!!
So Comfy!
Wow! I already have the Gusset Shorts: Long, and many other Texture items, and enjoy those so much. I thought it was time I tried the leggings. Get these. You will not be disappointed. So comfortable, I don't want to take them off. But then again, that is how I feel about all of Texture clothing. The extra long legs are really nice. I usually have to worry about inseams being too short, but not with these. The fabric, as always, is such high quality. The cut is great. The waist is nicely fitted, but comfortable when sitting. I am a size 14 for bottoms and wear size L in Texture bottoms. Above all, I love Teresa, what she does, her kind ways and attention to detail. Thank you for everything. My favorite shop! P.s. Try wearing the shorts and leggings under the skirts in the cold months. Double the cozy. Can never have too much Texture! :-)
Excellent Fit and Feel
I have several pairs of these leggings and a few capris too in the Hemp/Cotton. I love wearing hemp and the combo with cotton make a nice feel to the fabric, and durable too. The only feedback I have is they are VERY long and I love this in the winter they have a unique scrunched look and work with any shoes or boots, but this summer I actually hemmed a pair so I could keep wearing them in warmer weather. I made them longer than the capris. I like have an in between length so now I have them in 3 lengths. 😊
Sassy comfort!
I wear these almost daily. They are so comfortable. I sized up a little so they are fitted but not tight. Good coverage and I feel comfortable wearing these as pants. I get a lot of compliments on the prints. I think people expect leggings to me plain and are surprised when they're not. You will not be disappointed with these. Worth every penny.
My favorite!
These are the best, most comfy pants I may have ever owned! I am 5'9" and 230lbs and the Xl fit like a glove. They are super long, which leaves a lot of room for movement and is really nice gathered at the ankle. I have worn these so much I am afraid I will wear them out. My goal is to have several pair soon. Go ahead and get two pair. You won't regret it!!!
Best leggings ever!
I have purchased several leggings now. The Milky Way gusset leggings are great. They are 95% organic cotton & 5 % spandex.
I have purchased other leggings here that were of the Hemp, Cotton, spandex. It is a toss up. I like how each of those materials feel. I thought the milky way leggings would be fun to wear with the Light Weight Blanket cardigan I bought in the Shooting Star pattern. And guess what -- it is! I love the fact that you can make many outfits out of the clothes Texture Clothing sells.
I really love wearing these clothes -- I always feel extra special when I wear them.
So comfortable!!!!
I find that most pants and leggings hurt my lower back and are uncomfortable while moving through the day. Not these leggings. I feel like I'm wearing pajamas but I look amazing! I ordered the Milky Way fabric and I am in love with the look and feel of it. Texture knows what they are doing!
Best leggings I didn't think I needed
I bought two pairs of the cotton/ lycra leggings and they are lighter than I anticipated, which I love. They will be very versatile and I might pick up the hemp blend when it's colder. They are a roomy fit so you could possibly size down. I got the mottled fuchsia and they are SO fun and happy. I love all of my texture purchases, but these are at the top of the list. Thanks for being a wonderful company who makes perfectly comfortable and stylish clothing. <3
AWESOME, AWESOME Leggings!
I have purchase 2 pair of leggings( with a 3rd pair on the way): one made of the hemp/organic cotton/lyra blend and the second pair made of the Organic cotton/lyrica blend. I love both of them.
The organic cotton/lyrica blend leggings are a lighter material and are extremely comfortable. The hemp/cotton/lyrica blend is a little heavier material and I wear them when it is a little colder in my apartment. However both are nice and cozy. I like wearing my leg warmers with them and knitt mitts when out and about.
It is so much fun to wear clothing by Texture Clothing! For me, among their other mission goals for the company, when I wear their clothing I do feel beautiful and good about myself. Mission accomplished on that front! Texture Clothing put a lot of love and into making their clothing and I believe one can feel that when wearing any of their products.
Thanks Teresa and gang for all your good work!
Who knew
Leggings can stay up on their own? I'm shaped like a jelly bean on stilts and that's hard to fit. These stay up, are long enough for a nice change, are soft and comfy and make my hubby drool. Win/win/win/win! (There's nothing "traditionally" sexy about these, mind you. Hubby has a thing for anything that fits like yoga pants.)